Pricing:
Full Color MAP - $10
Air Mail Postage:
- $9 (1-3 maps),
- $13 (4-10 maps),
- $FREE (10+ maps)
Worldwide shipping.
Mailed in a rigid cardboard tube.
Order via PayPal:
Ham Radio World map with DXCC country list. Includes all current updates published by the ITU and ARRL DXCC.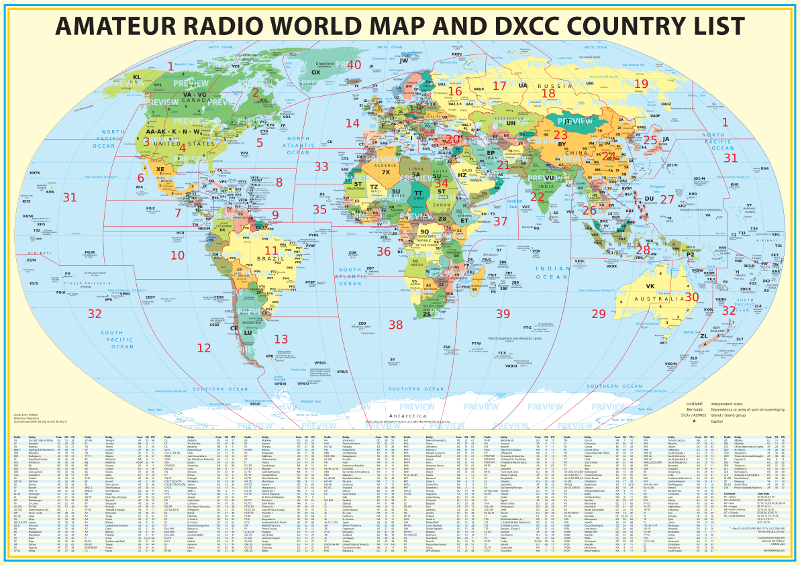 Poster size 33"x23" (84.1 x 59.4 cm) Professional print quality. Fast shipping.
Clubs and Group buys: note free shipping on large orders.

Maintained and printed in Kiev, Ukraine by UT0UM
4-ink Full Color Offset print, razor sharp at 300dpi
Please see map feedback on the QRZ forum. and 5.0/5 Avg Rating based 15 reviews at eHam.net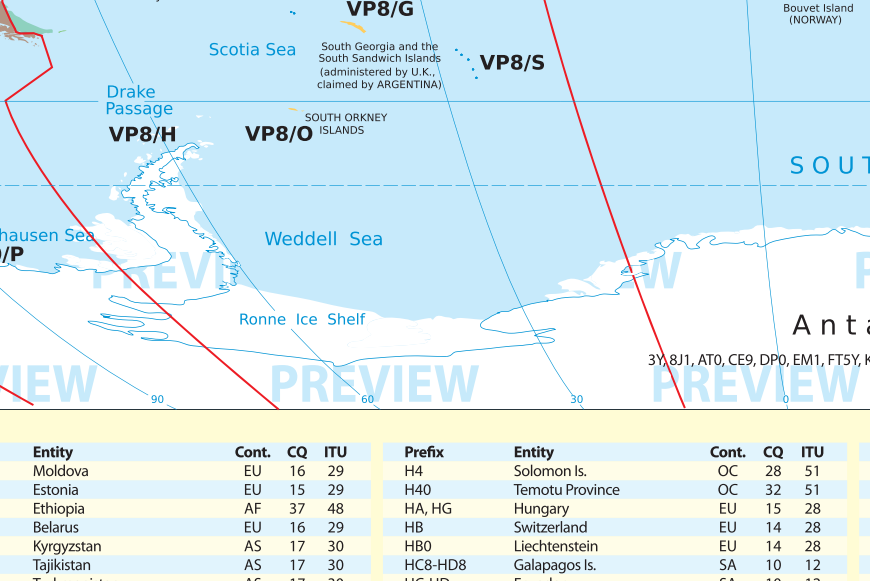 ---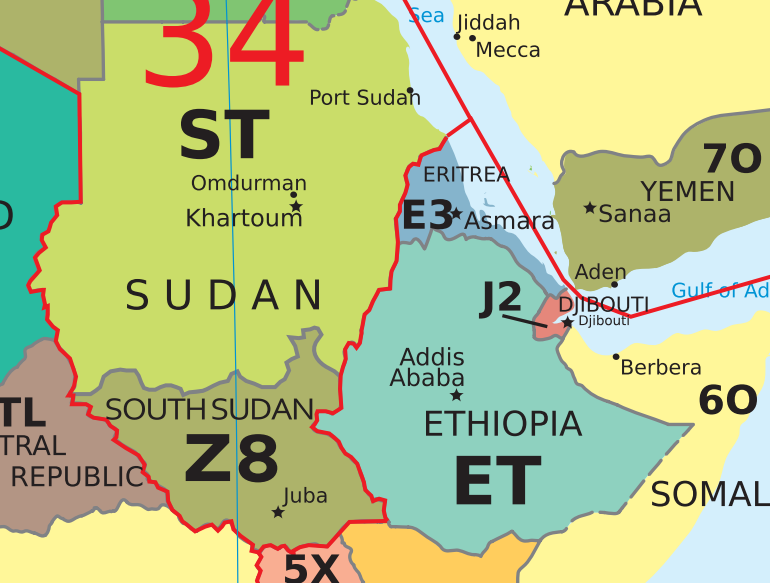 Feb Updates:
Updates for 2015 edition

:

D8A added to Antarctica, deleted T5 Somali, move 60, T5, T6, YA in the DXCC table, CE, LU - ITU zone 14,16, EX - ITU zone 30,31
Updated South Sudan Prefix to Z8 per ITU
Deleted Maly Vysotsky Island (MVI) per ARRL notice.
OY corrected to Zone 14
Added missing CY9 St Paul I
DXCC table update - 340 Current Entities
Recent Updates:
Prefixes added: ST0, PJ, FJ, T30, 31, 32, 33, V6, CY0, 3B6,7,9

Afganistan prefix changed from YA to T6

Added Crimean peninsula prefix: UU

Removed ZD7 from Zone 38

Added PT8 perfix - area next to the Bolivian-Peru border

Corrected borders for Zones 25, 27, 31 and 1
Corrected zone for Aleutian Is. (formerly zone 19) JD1/M (formerly Zone 31)

Corrected/added prefixes for Antarctica

Removed 4К1 from South Shetland Is.

Removed VK9 islands which are not counted as a separate entity

Moved FK/C Chesterfield Is from zone 32 to zone 30

Corrected locations of VK9M, VK9W

Added new prefixes for Chili, Azores, Maidera, Portugal

Corrected prefixes for Russia
(added 2,5,7,8 regions, corrected RI1FJ, RI1MV Islands)

Added 5th region to the US

Added China provinces